About the Brand
TECHVED Consulting is a professionally managed 'User Experience Design and Development' consultancy. Embrace research and design bringing innovative ideas for ideation and the creation of Usable Interactions & Mobile App Development Services. We deliver world-class solutions for a broad spectrum of interfaces like websites, communication devices, intranets, products, etc.
Challenge
The website wasn't receiving much traffic, and most of it was branded. and they were planning to rebuild the site on a new platform at the time.
The content had to adhere to strict brand guidelines, which made it difficult to appeal to the target audience.
The website services and terms were technical, which made it difficult for users (most of them are non-technical) to understand what the company offers
There were technical issues with the website itself, including the www version and non-www version URL conflicts.
Solution
Comprehensive Website audit
Conducted a comprehensive website audit, including a review of the site architecture, content, and link profiles
Since the site was undergoing a rebuild, collaborated with the website team to anticipate potential migration issues.
Examined the old site's content and traffic data to identify pages with decent visitor numbers.
A plan was developed to redirect users from old pages to corresponding new pages, ensuring existing traffic was retained.
Assessed the website's link profile and removed any low-quality or spammy links, which improved the overall site quality.
By conducting this audit and implementing the necessary changes, we aimed to enhance the new website's performance and user experience while maintaining existing traffic levels.
Identify your highest-value keywords
The next step was to find the highest-value keyword the business needed to target.
Conducted thorough keyword research to identify the most valuable keywords for the business.
Based on the research, compiled a list of keywords, including both short-tail and long-tail Keyword variations.
Used competitor data to refine the keyword list further.
The search volume of each keyword was taken into account to understand its potential.
Evaluated the difficulty of ranking for each keyword.
The list was filtered to focus on high-value keywords.
Assigned the selected keywords to the most relevant pages on the website.
By targeting high-value keywords strategically, we aimed to improve the website's visibility and attract relevant traffic to drive business growth.
Analyzing user intent and organizing the site's content
Ranking a website highly on search engines requires great and appropriate content. The key to ranking on Google is understanding the intent behind your target search term and creating content that fulfills it. Therefore, prioritized the highest-value keywords and analyzed user intent to structure the site's content in a way that resonates with them.
Stable blog publishing related to the industry
A blog is the greatest way to grow the website's audience and traffic. It has the power to convert readers who already have an interest in the business to customers if we are moving with the correct content strategy and maintained a blog that regularly publishes related to tech and internet industry content to attract organic traffic.
Rinse and Repeat SEO strategy
Conducted continuous audits to identify areas for improvement in terms of technicality, content, usability, and optimization and utilized a rinse-and-repeat SEO strategy that involved changing keyword targeting on specific pages and blogs, which also helped us to improve the organic traffic.
Results
In just 6 months, saw some incredible results that included: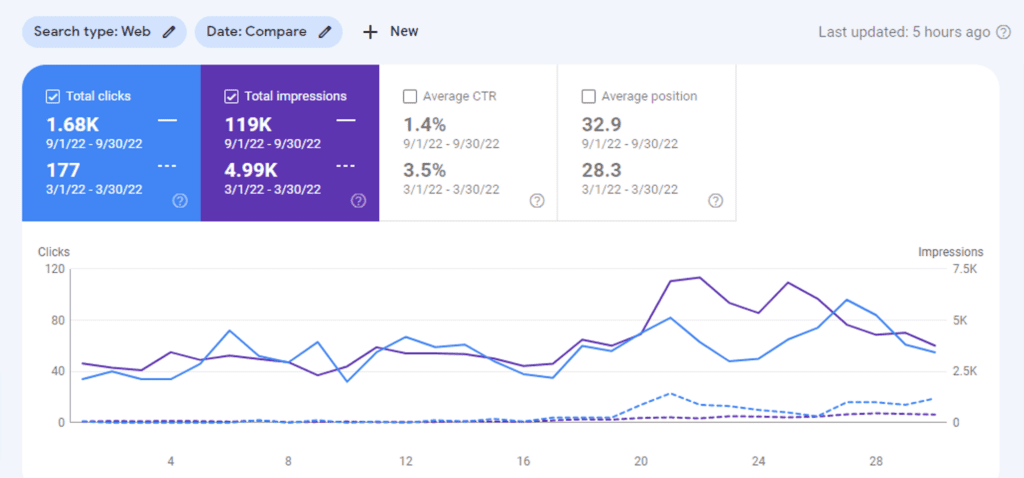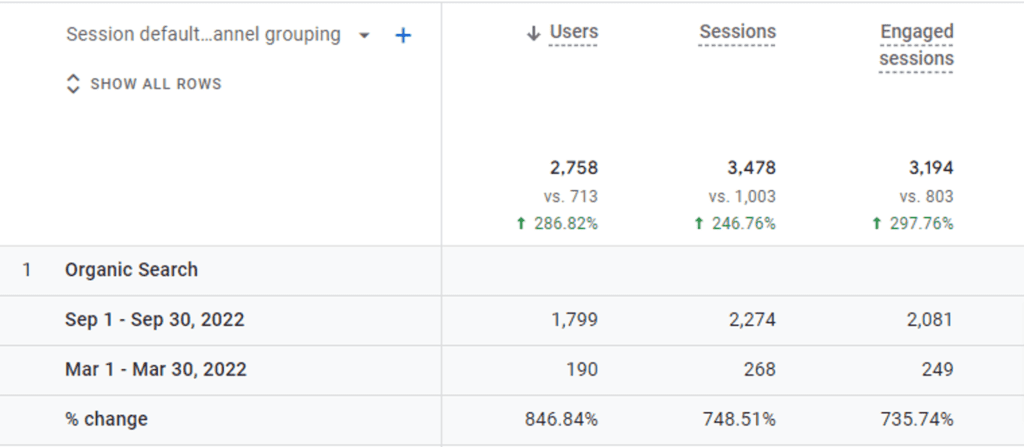 Within just six months of continuous monitoring, content distribution, and SEO implementation, the brand saw over 849.15% growth in clicks and an 846.84% increase in total users. Additionally, the search impressions increased by 2284.77%, and user sessions saw a jump of 748.51%.
Conclusion
A comprehensive and sustainable SEO plan is essential for any website looking to improve its online presence. Optimizing your website's pages, creating high-quality content, and building white-hat links are all important factors in any good SEO strategy.