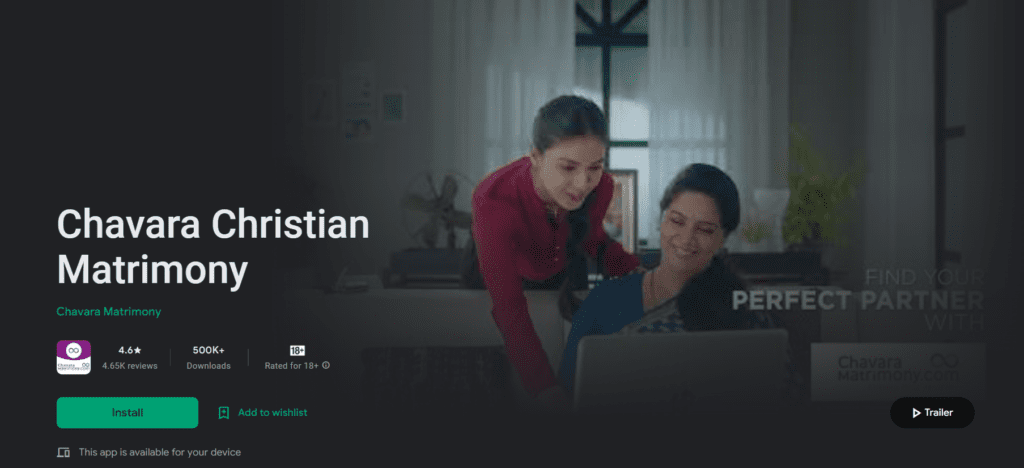 About the Brand
Chavara Matrimony is a trusted website for Christians searching for their life partners. With more than 25 years of experience, they have successfully helped over two lakh+ Christians find their perfect match. You can get the Chavara Matrimony app from Google Play and the Apple App Store to begin your search for an ideal partner.
Challenge
To, increase traffic to their apps on both Google Play and the App Store to get more downloads. However, the big problem was that their competitors were already ranking for the related keywords because of the advantage of "exact match" app names with the keyword.
Solution
The following steps to overcome the challenges, which resulted in higher Play Store traffic:
Changed the app name
The name of your app is what every user sees first and the keywords in the app name have the strongest ranking weight. Most of the competitors have this advantage because they branded themselves as the primary keyword- "Christian matrimony.
It was very difficult to get traffic from the keyword "Christian Matrimony". Chavara Matrimony is designed for Christians to find their soulmates, and this was nowhere mentioned in their brand name.
Changed the app name to "Chavara Christian Matrimony" instead of Chavara Matrimony App just to include the primary keyword in the app name. This helped in a huge way. Started ranking in the 2nd position for the competitor's "branded keywords".
The new app name included both the brand name and the primary keyword.
Started getting both branded traffic and non-branded traffic
Included primary keywords in the app description
App description provides users with information about an app and gives an overview of its main features.
Created an app description that provides users with information about the app and its main features.
Conducted in-depth research to find relevant keywords used by the target audience.
Used these keywords to better describe the app's benefits for users.
Ensured the app description was search-friendly to improve search engine rankings.
The goal was to increase customer engagement with the app.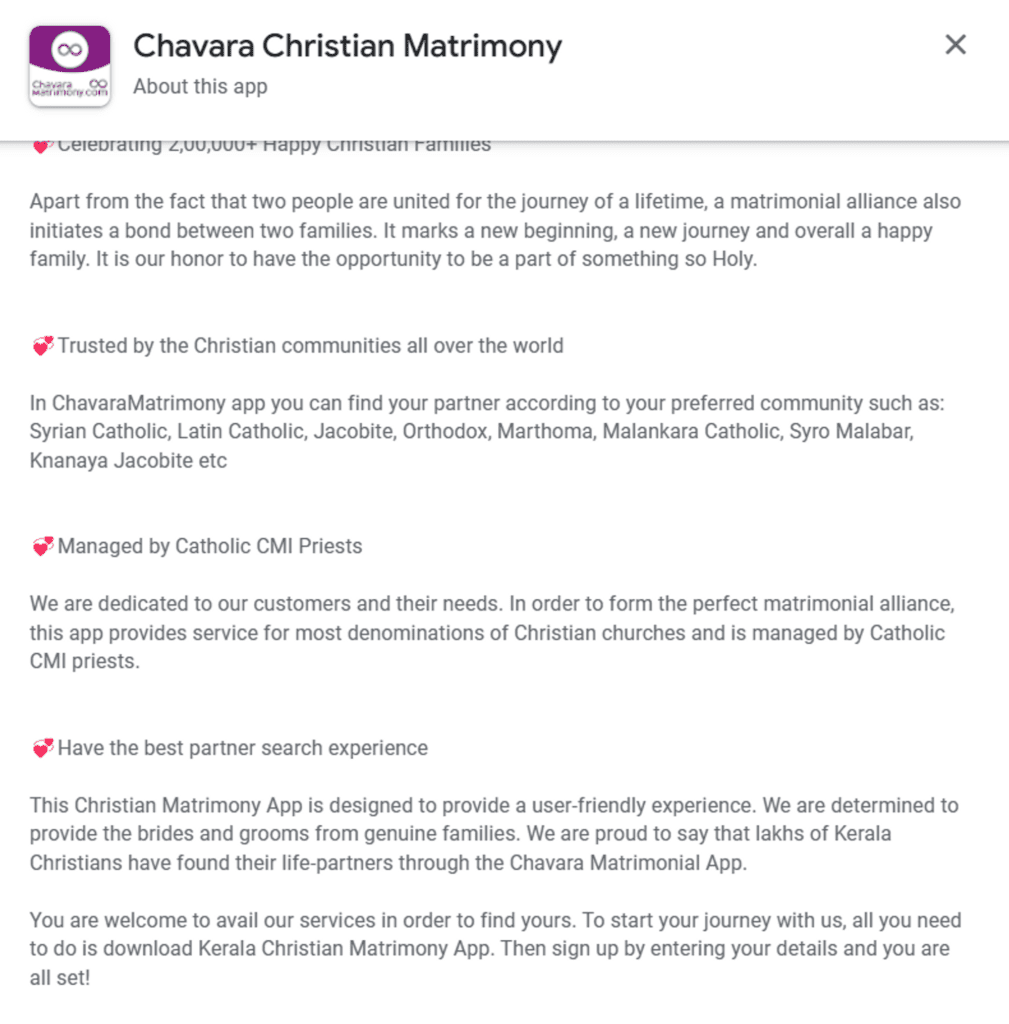 Google Play Store: Chavara Christian Matrimony – Apps on Google Play
IOS App Store: Chavara Christian Matrimony on the App Store (apple.com)
Changed the app icon
Made another significant change by modifying the app icon of Chavara Matrimony.
The last app icon was not up to the mark as it was missing the app name in the logo, which may have reduced the click-through rate. See the previous logo below.

Changed the icon with its brand name to get more brand visibility and increase authority. The new logo is below.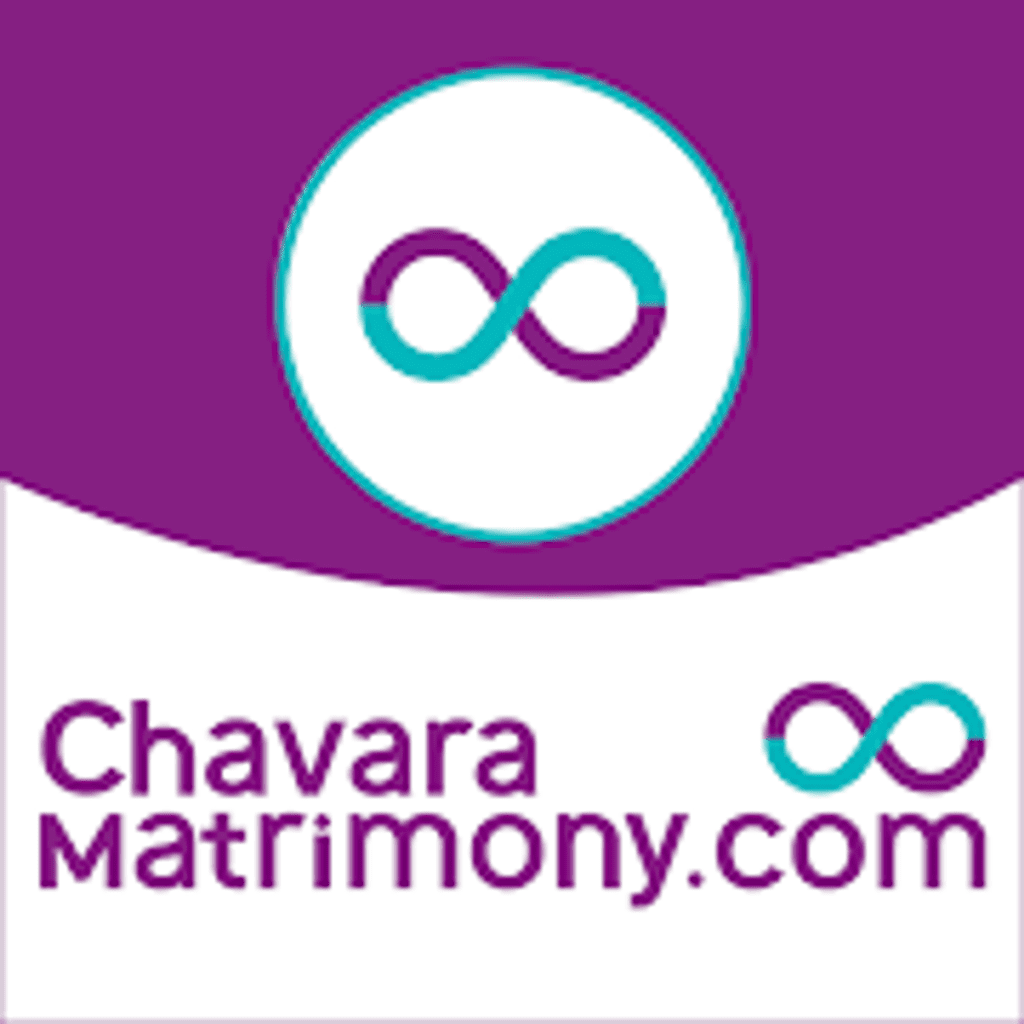 Did A/B testing to ensure that the new icon works for our target audience and gives our clients the best results
Added screenshots and videos of the app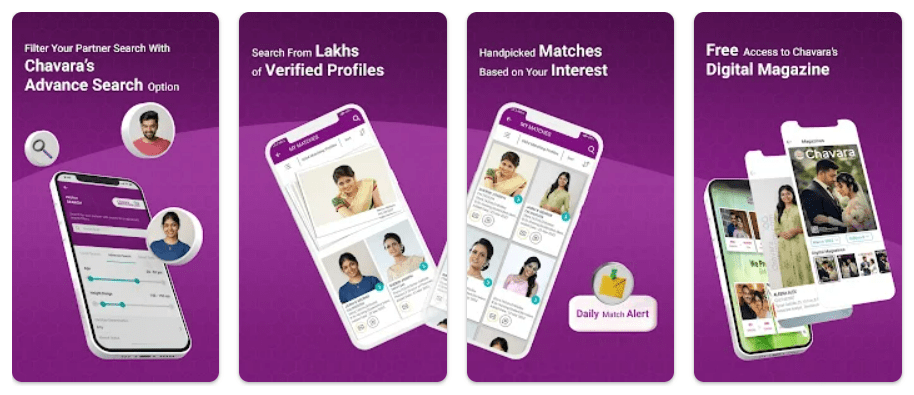 Results
After optimizing the app and IOS App Store Chavara Matrimony achieve a 3x increase in play store traffic, a 281.93% increase in store listing acquisition, and a 223% rise in total traffic organically. Also saw a significant increase in app installations,