Running ads for one of the Pharmacy brands Wellness Forever, and the results were extraordinary. almost the ROAS compared to the last month.
About the Brand
The client is from a pharmacy brand based in India that offers quality products across various sectors.
The brand provides personalized, high-quality professional advice from experienced pharmacists, so anyone who walks into their store not just gets exceptional products but also excellent standards of customer service
Plus they have many stores running 24*7 to help their client's needs. Their dedicated team of professionals is always there to listen to the specific needs of the people and ensure medication orders are fulfilled accurately.
Brand Concern
The client wanted to increase the Awareness and Sales of their brand. Before most of the customers, dint know about the brand and sales were low and most of the sales came from repeat customers. So the primary job was to gather data on increasing our client's sales and getting them higher revenue.
Solution
After analyzing everything from a website and its search history. in spite of having a good website wasn't converting much. so this is what we changed.
We used the power of google analytics and Heatmap to track the customers who visit the website and improve the brand's revenue.
Under the enhanced eCommerce section of Google Analytics, we selected the product performance tab. This tab includes columns such as Product revenue, Unique Purchases Quantity, Cart Detail Rate, Buy to Detail Rate, etc.
Hence, a high cart-to-detail rate and a high Buy to detail rate essentially mean the product is in good demand and customers are taking action once after going through the product page. Hence we decided to find out the products which had a good cart and buy at detailed rates and run ads for the same.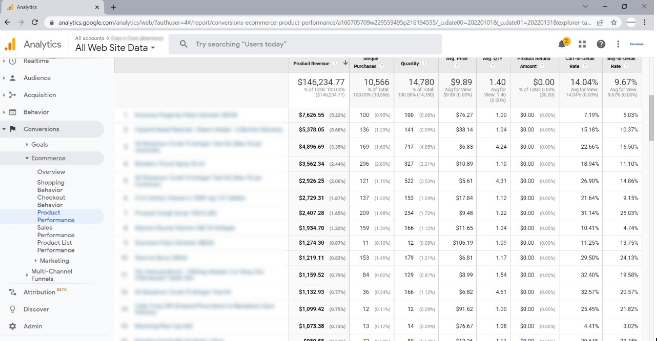 By analyzing the above data. I was able to figure out which all were in-demand products at the time, and ran ads for specific products and could see that on running these ads our total sales and ROAS had really spiked thanks to the performance of the above campaigns.




Results
Started focusing on products that make the most sales, and our numbers increased by 86% as compared to the previous month. Plus, our ROAS jumped from 6 to more than 10, even in such a competitive market.